Triggerfish Twist
Click on the image below to read an excerpt.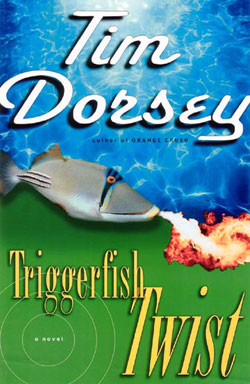 Warning from the publisher
When Tim Dorsey sat down to write his first novel, Florida Roadkill, he didn't know what he was doing. He killed off way too many people. Now he needs them.

So take a warped trip back in time as Dorsey reunites the living and the soon to be very dead in Triggerfish Twist. And for the uninitiated, what a perfect place to start! Set during the summer before Roadkill's pyrotechnic climax, Dorsey's fourth novel is both a fond and perverse anti-rhapsody to the typical Florida neighborhood, as seen through the eyes of one Jim Davenport, a mild-mannered family man from the Midwest whose employer transfers him to the Sunshine State. He purchases a lovely tropical villa on the equally idyllic Triggerfish Lane. The family appears to have found paradise.

But it is a long, hot summer, and soon the layers of the onion are peeled back one by one to reveal all is not right in utopia. Yuppies with pit bulls, hot-rodding pizza deliverymen, Machiavellian used car salesmen, Rastafarians who refuse to smoke dope, floating pawn shops on crack street, neighborhood crime watch teams running for their lives, after-midnight clientele at 24-hour supermarkets that put zombie movies to shame, unnatural sex, casual violence, gore, blasphemy, and people who write checks at convenience stores.

It all becomes too much for Jim, and before the peaceful Indiana farm boy knows what's happened to him, he's gone and killed someone. Of course, as odds are in Florida, it was someone who richly deserved it, and police officially rule the homicide extremely justified.

Unfortunately for Jim, he has killed the youngest of the infamous McGraw Brothers, who are released from prison near a NASCAR track in Alabama and head south, bent on revenge.

Not enough, you say? Okay, Serge, Coleman and Sharon - the incendiary trio at the center of Roadkill - are forced to move when the latter two burn down several blocks of Tampa's historic Latin Quarter during wacky freebasing hijinks. They naturally rent a house across the street from the Davenports, and Serge decides to take Jim under his wing, determined to teach him local history and how to satisfy his woman.

The McGraw Brothers continue south.

Sharon hallucinates on coke.

Coleman refills his beer helmet.

Serge becomes a Little League coach.

And when the confluence of people and events is just about to boil over, everyone converges on Triggerfish Lane for the big Fourth of July block party, setting the stage for another knee-slapping bloodbath. But then, it's just another day in Dorsey's paradise ...